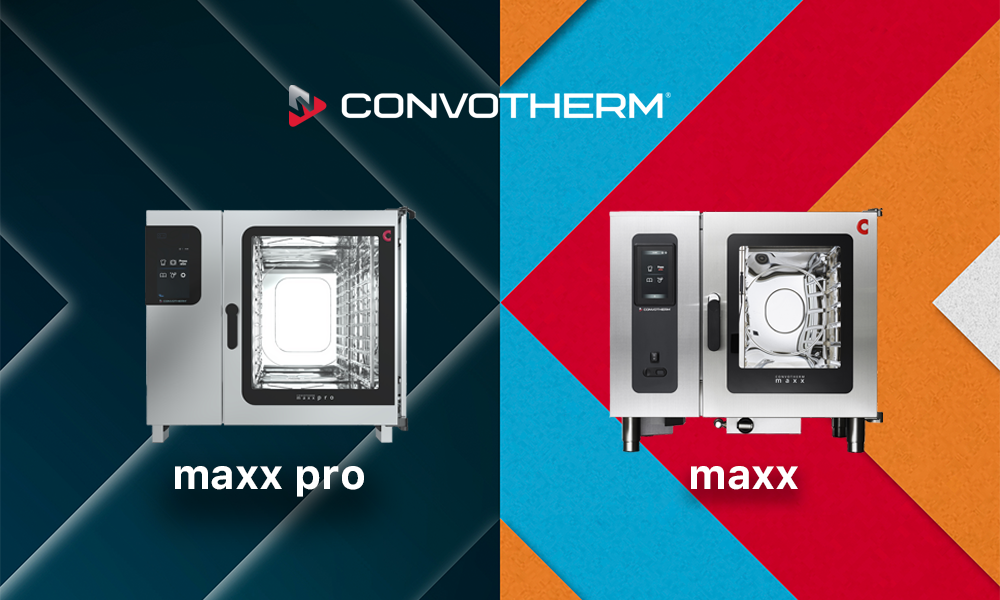 To run a successful hospitality business, you need commercial kitchen appliances that are as capable, hardworking and reliable as you and your team. Enter the Convotherm combi oven range – the maxx and the maxx pro.
German engineered to the highest standards, Convotherm appliances are known for their advanced features, operator safety and cooking consistency, and the maxx and maxx pro models are no exception.
Premium quality appliances that will save you time, money and stress day after day, a maxx or maxx pro combi oven purchase is a true investment in your success.
Why two models?
Not every business needs a combi oven with all the bells and whistles, which is why Convotherm saw an opportunity to offer two models that differ in their number of features and functions.
Both combi oven models are incredibly high-quality and have been designed to increase efficiency and streamline processes, but the maxx and its features are well suited to cafes and bistros, while the maxx pro's functions and capabilities allow the user to cook higher volumes with ease.
From restaurants to large banquet functions, users of the maxx pro combi oven will reap the rewards of the many additional cooking modes and functions.
Which model should I choose?
Which model maxx you choose will depend on the unique needs of your kitchen and your team.
Many chefs and cooks use commercial combi ovens to prep and cook food, but the maxx and maxx pro have been designed to take things to the next level – offering more functions and saving you even more time.
Convotherm maxx
The maxx is available in a 6 and 10 tray version, and has been designed for the professional who runs a smaller establishment, like a cafe, bistro or casual restaurant.
They need a combi oven that's good quality, reliable and easy for them and their staff to use. They need it to be multi-functional, but they don't need every function under the sun. For example, they're happy to forego the smoking function of the maxx pro because they don't have smoked items on their menu.
The maxx gives the reliability and consistency of the maxx pro, while being a great option for entry-level users. It's a no-fuss option perfect for staff that may have a low operator skill level. For these smaller businesses, the maxx has everything you need and nothing you don't – and represents affordable cutting-edge technology.
Convotherm maxx pro
The maxx pro takes things to the next level in terms of functionality, with all the features of the maxx plus an additional suite of functions that offer you endless possibilities.
Functions like the ConvoSmoke and ConvoGrill not only save you time but allow you to expand your menu offering. The ConvoServe setting means you can easily serve large functions, further expanding the possibilities for your business.
The maxx pro's different sizes and options allow you to customise the combi oven to suit your exact needs. Available in four different sizes – each with varying capacities and core  – you can also choose the control panel type (EasyDial or EasyTouch), power type (gas or electric) and the heating method (boiler or injection).
These customisation options allow you to design the ideal combi oven for your kitchen, so you can produce outstanding results for your customers every time.
Perhaps the biggest drawcard of this premium model is that, unlike the maxx, it's specifically designed to cook very delicate produce, such as seafood and fine dining cuisine.
This makes it the perfect choice for those establishments with variety in their menu. There's little to no flavour transfer between produce thanks to the advanced closed system, Natural Smart Climate feature. The "disappearing door" feature on the EasyTouch models gives that extra level of flexibility within your kitchen space and reduces the risk of injury amongst staff.
Got any question? Contact us today.